UNCOVER YOUR SUPERHUMAN.
Breath is the ultimate compass of peak performance and longer life. Find your fitness superpower by unlocking your breath.
The first nutrition and training program personalized to your metabolism with clinical precision. Meet PNOĒ.
TRUSTED BY
BUILT FOR YOUR FITNESS JOURNEY
Whether you are looking to lose weight, beat your last time or live longer, PNOĒ is the only program that can guarantee success. Here's why:
Weight Loss
Metabolic slowdown is the No 1 reason diets fail.
ATHLETIC PERFORMANCE
O2 flow through lungs, heart, and cells is the hallmark of performance.
14% reduction in race times.
LONGEVITY
O2 flow through lungs, heart, and cells is the strongest predictor of longevity and chronic disease.
5.2% reduction in biological age.
A personalized holistic program that includes everything success requires.
NUTRITION
Nutrition based on your dietary preferences, restrictions, caloric and macronutrient needs.

WORKOUT
Training based on your limitations and tailored to any equipment or program you're using.

BREATHWORK
Breathwork based on breathing and lung limitations.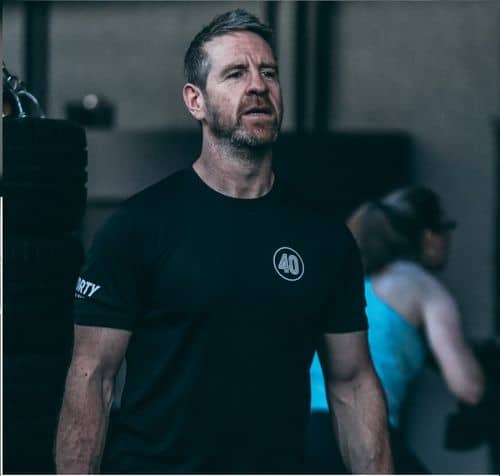 The 'Health' in health and fitness is where our passion lies. As much as fitness makes up a very important part of that equation is not the be-all and end-all. Good sleep, balanced nutrition and a healthy mindset we feel are just as important and are the focus of our own training.
As much as 40RTY is a group training centre we pride ourselves on helping individuals reach their goals. Through the Pnoe system, we can help first identify, and then overcome potential blocks in a person's health and fitness.
Using the very latest equipment along with practices from the most up-to-date scientific studies, we can ensure your success.
Using the experience, skill set and knowledge from over 20 years of working in the health and fitness industry, Spencer also runs a private coaching programme helping people elevate their health and fitness.
THE GOLD-STANDARD IN HEART, LUNG, CELL, METABOLIC TRACKING
PNOĒ has been independently validated to deliver the same accuracy as clinical grade analyzers used in hospitals.
UNCOVER YOUR SUPERHUMAN STORIES
Despite being Spartan Racing Champions, Ryan and Lindsay had a lot to work on. PNOĒ found their weaknesses and gave them the plan to overcome them. After one month of training, they both achieved their best times ever
DATA DRIVEN INSIGHTS FOR A BETTER YOU
PNOE analyses your body with key metrics. Your results from our test will allow you to realize your fitness potential in a matter of months.
We have helped 40,000+ including world champions achieve their health and performance goals. It's now time to help you!
LINDSAY WEBSTER
Spartan Racing World Champion
Overtraining had disturbed and slowed me metabolism. PNOĒ found it and helped me fix it.
RYAN ATKINS
Spartan Racing World Champion
PNOĒ found that my lungs were limiting my performance gave me the breathing training I needed to improve.
ROBERT KILLIAN
World Champion Spartan Racing '15 '16

PNOĒ helped me take my training to the next level by giving movement specific training recommendations.
Select the program that works best for you and upgrade at any time.
NUTRITION AND WEIGHT MANAGEMENT
Designed for weight loss, accurate maintenance or weight gain

Consultation with a dietician to design a nutrition plan unique to you and your goals

Resting Metabolic Rate

Optimal calorie and macro targets

Assessment of posture & cognition

Calorie wearable calibration

An ongoing programme to help you better realise your goals
PERFORMANCE, HEALTH & NUTRITION
MOST POPULAR
Perfect for those wanting total health and body change

Resting Metabolic Rate & Active Metabolic Rate clinical-grade reporting

Personalised breath-work program & Active metabolic rate

Consultation with a registered dietitian

Personalised nutrition program

Ongoing dietitian support for 30 days

Personalised programme to help you better realise your goals.
DETAILED PERFORMANCE
Ideal for improving performance and improving your personal best

VO2max and detailed training zones

Personalised workout plan

Consultation with a metabolic expert

Personalised breath-work program

Fat and Carb burn during exercise

Recovery capacity assessment